Aikido of Nassau County mourns the loss of Donovan Waite Sensei.
This is an immeasurable loss to the Aikido community, and a great personal loss to those who have trained with him for so many years.
                                                                                                                      9/18/2020
Even though the dojo is still closed due to the virus, remember that you can continue your practice in Aikido.  You can do this by maintaining your awareness in your movement and awareness of your surrounding.  Watch your mai and maintain a safe distance from others. 
Regardless of your own personal beliefs, remember to respect the opinions  of others and try to harmonize with them.  You don't have to agree or accept them but try to blend with their ideas.  This can be more difficult than practicing on the mat.
Being aware and blending with others is what aikido is.  Practice aikido in your daily life.
   If you wish, Joanne has set up a way that we can communicate with each other through this webpage.   If you click on the link Comments above, you will be directed to a page where you can write how you and your loved ones are doing.   Try it and let us know what is happening.  
Be well and be safe.  
Welcome to AIKIDO of NASSAU COUNTY
Tuition is $100 for adults and teens.
No additional charges except yearly membership dues of $45 for the United States Aikido Federation (USAF).  Please contact us for additional information. 
 At this time, we do not have classes for children.

Benefits of Aikido: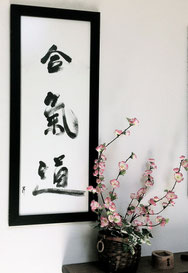 Teaches self-defense (Budo)

Increases flexibility and stamina

Enhances balance and coordination

Increases self-confidence

Sharpens alertness and concentration

Reduces stress

No competitions or tournaments

All ages can participate

Size is not a factor

Preferred by Law Enforcement