May 26, 2021
GOOD NEWS !!
The dojo is now open.
Cliff Sensei is teaching Friday and Monday evenings and Sunday morning.  These classes are open to all who wish to practice whether vaccinated or non vaccinated, with or without masks.
Joe Sensei is teaching on Wednesday night at 7pm  only for those who have been vaccinated.  Please notify Joe if you wish to come to Wednesday's class so we can maintain social distancing.
So if you are looking to get back to your training, come on down.
Welcome to AIKIDO of NASSAU COUNTY
Tuition is $100 for adults and teens.
No additional charges except yearly membership dues of $45 for the United States Aikido Federation (USAF).  Please contact us for additional information. 
 At this time, we do not have classes for children.

Benefits of Aikido: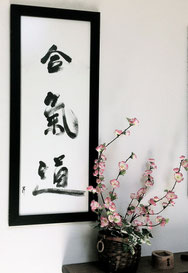 Teaches self-defense (Budo)

Increases flexibility and stamina

Enhances balance and coordination

Increases self-confidence

Sharpens alertness and concentration

Reduces stress

No competitions or tournaments

All ages can participate

Size is not a factor

Preferred by Law Enforcement