April 14, 2021
 Hope everyone is doing well and staying healthy and safe.  Looking forward to being able to get back on the mat soon in a limited capacity with full safety protocols.  Please continue to check this website for further information.
Hoping  you have received your vaccinations.  Continue to stay healthy.  Wear masks and always  be aware of your mai (distance)
Welcome to AIKIDO of NASSAU COUNTY
Tuition is $100 for adults and teens.
No additional charges except yearly membership dues of $45 for the United States Aikido Federation (USAF).  Please contact us for additional information. 
 At this time, we do not have classes for children.

Benefits of Aikido: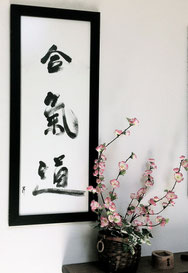 Teaches self-defense (Budo)

Increases flexibility and stamina

Enhances balance and coordination

Increases self-confidence

Sharpens alertness and concentration

Reduces stress

No competitions or tournaments

All ages can participate

Size is not a factor

Preferred by Law Enforcement