Welcome to AIKIDO of NASSAU COUNTY
The dojo is open 7 days a week but closed on Legal Holidays.  Check our schedule here.
Visitors are always welcomed!
The dojo will be CLOSED

on

Monday, May 27th in observance of Memorial Day.
Please join us for:
The 9th Annual Rhona Smiles Benefit
Featuring Joe Nemeth Sensei
June 1, 2019  (1:00 pm - 4:30 pm)
Aikido North Jersey
219 Degraw Avenue
Teaneck, NJ 07666
For more details visit ASNJ website
Tuition starts at $130 for adults and $120 for full time students, depending on payment plan. 
No additional charges except yearly membership dues of $45 for the United States Aikido Federation (USAF).  Please call the dojo for additional information. 
 At this time, we do not have classes for children.

Benefits of Aikido: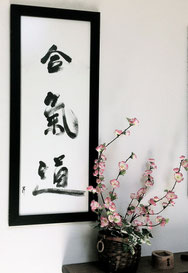 Teaches self-defense (Budo)

Increases flexibility and stamina

Enhances balance and coordination

Increases self-confidence

Sharpens alertness and concentration

Reduces stress

No competitions or tournaments

All ages can participate

Size is not a factor

Preferred by Law Enforcement