Pictures/Videos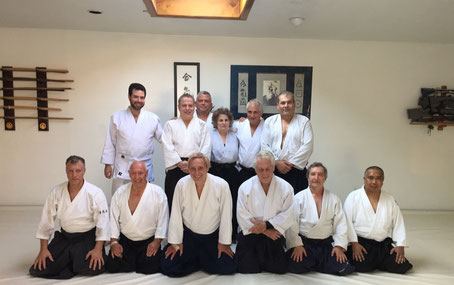 The Heat Crew
95+ degrees - July 6th
True Aikido Die Hards!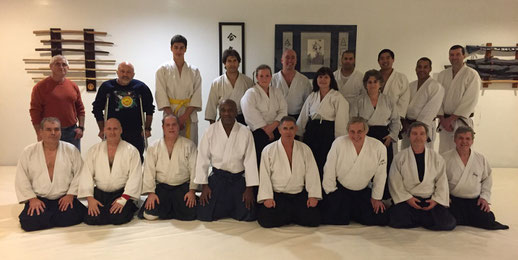 Aikido of Nassau County New Year's Eve
December 31, 2015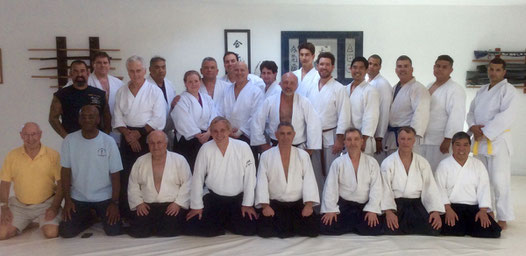 Aikido of Nassau County Open House

Saturday, September 26, 2015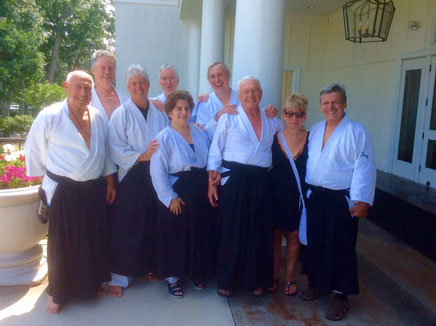 Members of ANC with Aikidoists from Long Island and Massachusetts at USAF 2015 Summer Camp.


Members of ANC at Jerry Zimmerman's 6th Annual Rhona Smiles Benefit Seminar (6/13/2015).

The seminar featured our own sensei, Joe Nemeth (6th Dan Shihan), Ray Farinato (6th Dan Shihan); and Gina Zarrilli (6th Dan Shidoin).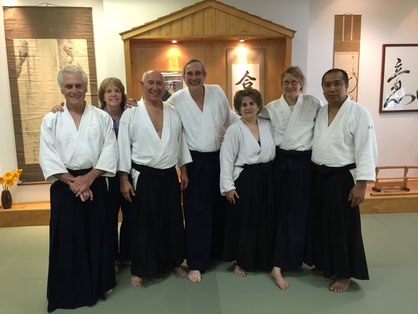 Members of ANC at Jerry Zimmerman's 6th Annual Rhona Smiles Benefit Seminar (6/13/2015).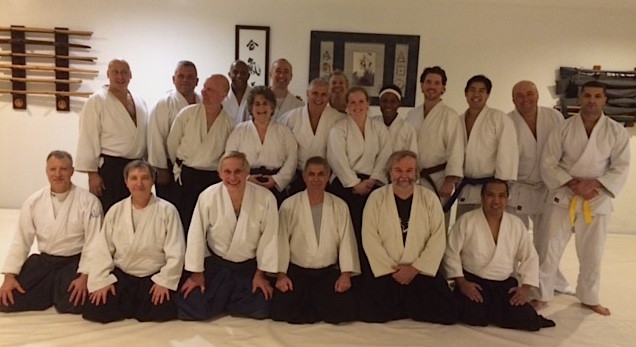 New Year's Eve 2014:

With the heat not working, we had no problems get warm in a hurry.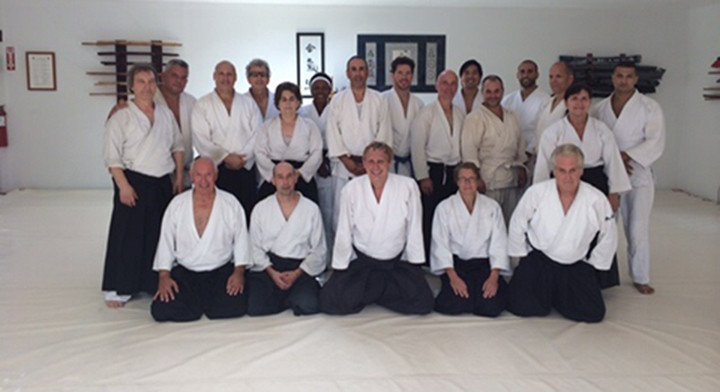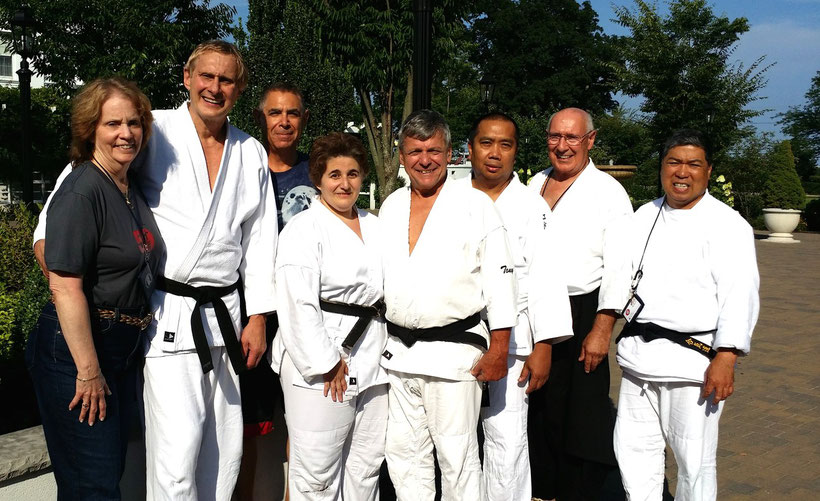 Members of ANC at east coast Summer Camp 7/27/2014.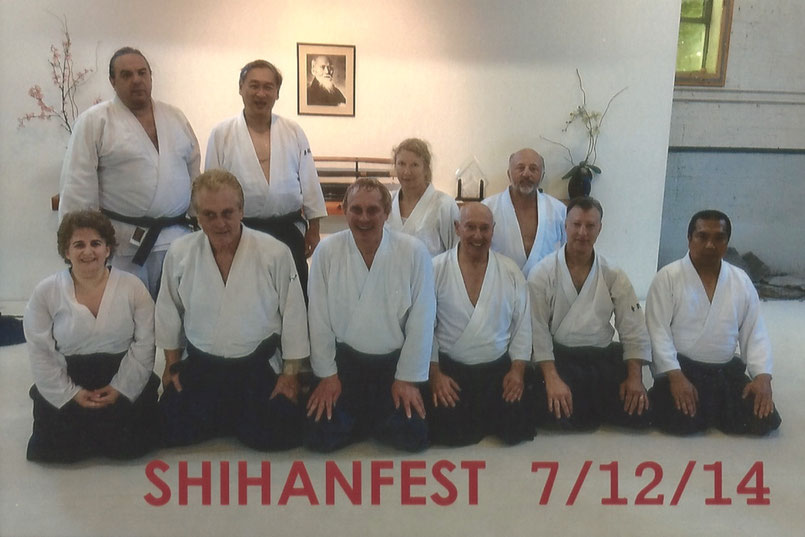 Sensei Joe Nemeth (seated center left) is flanked by aikidoka from ANC after his seminar class at the Shihanfest at the Aikido Schools of New Jersey.  
April 9, 2014 - Linda Holiday Sensei from Aikido of Santa Cruz presents to Joe Nemeth Shihan, and Cliff Marcus Sensei, a scroll of O'Sensei's words, brushed by Motomichi Anno Sensei: "How beautiful! The sacred form of Heaven and earth Created as One family." 
Below Linda Holiday Sensei teaches a special class and reads from her book 'Journey to the Heart Of Aikido.'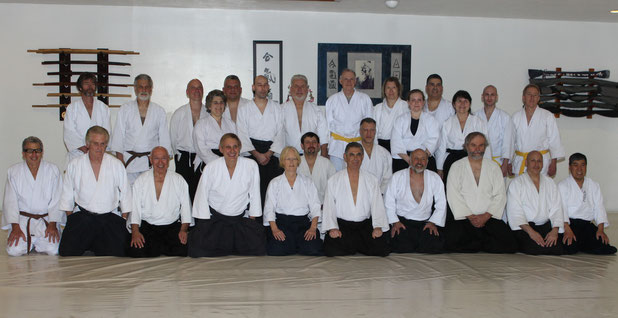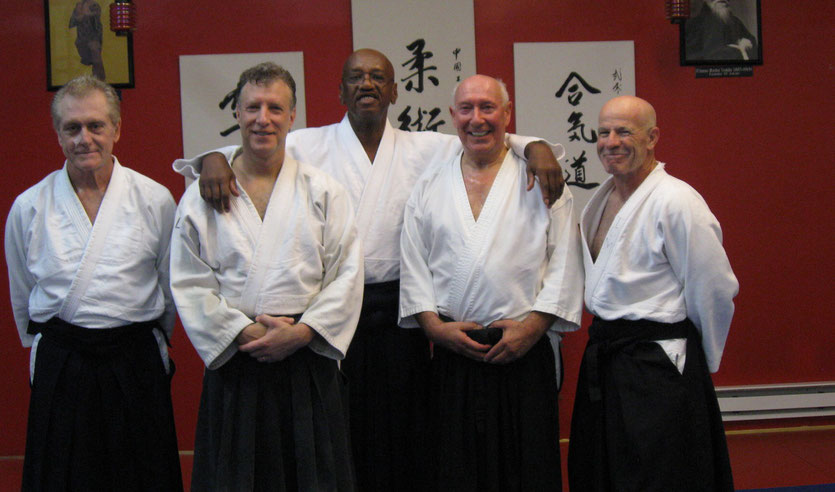 Sensei Frank Johnson seminar in Brooklyn.  Pictured left to right are Charlie, Alan, Sensei Johnson, Barry and Tom.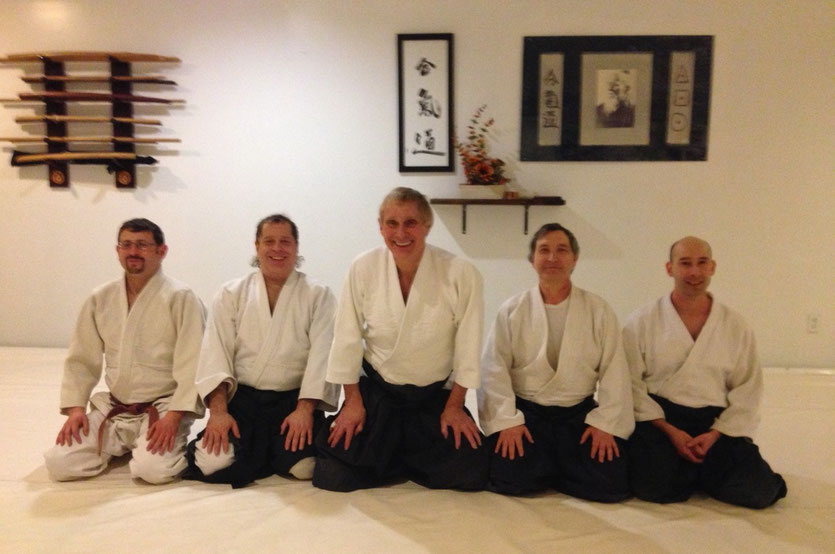 Neither rain nor snow nor gloom of night can keep the Aiki spirit from training. 
Click on any picture below for a larger image.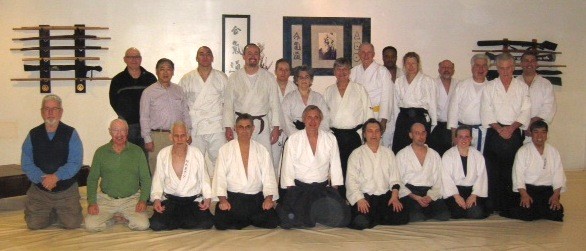 Testing night Jan. 2013.  
Congratulations to all who tested and especially to Lauren Bergmann (seated second from right) and Joanne Recca, (standing middle, sixth from left) on attaining San dan.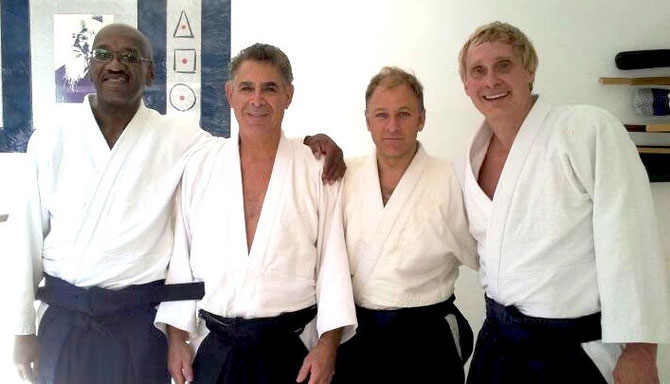 Charles Colton Seminar, Sept. 15, 2012.  Pictured are, from left to right, Senseis Frank Johnson, Cliff Marcus, Charles Colton and Joe Nemeth.   Below is a group shot of Aikidoka attending the seminar.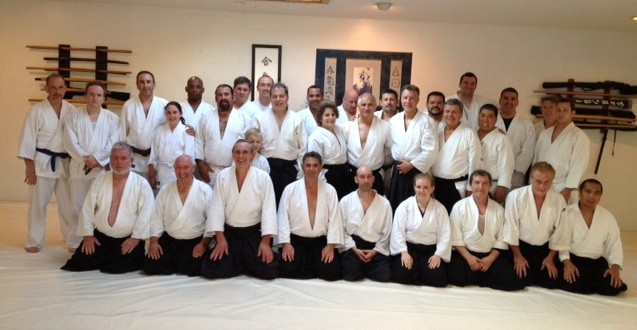 ANC Test Promotion Night (June, 2012) - 
Congratulations to Shodans Glynn (standing 5th from left), Dave (standing, 6th from left), Abe (standing 4th from right) and Tom (not pictured)
Marcus Sensei demonstrates forms of Kokyunage, a "breath throw" technique, with uke Jeff Leibowitz.  Kokyunage captures the momentum of an attack and redirects it in the form of a throw.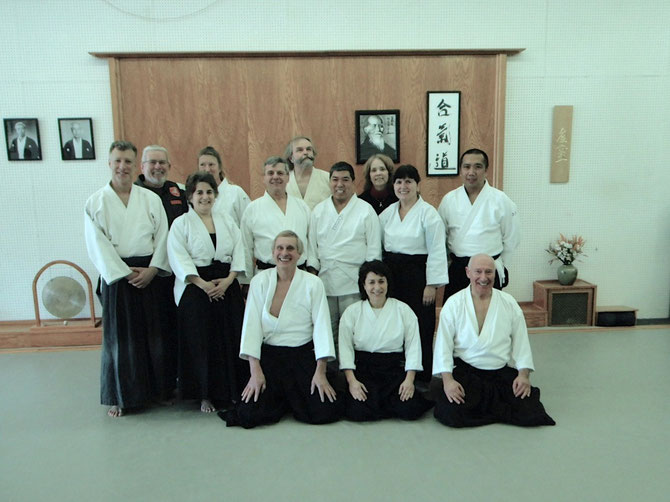 Members of Nassau County Aikido at Suffolk Aikikai seminar featuring Laura Jacobs Pavlick, Shidoin, 6th Dan (seated center), of Litchfield Hills Aikikai, and Sensei Joe Nemeth (seated left) and Barry Kushel (seated right).
Saturday, Feb 18, 2012